Our company offers trainings of integrated therapeutic techniques for chiropractors and physiotherapists. We apply those elements of chiropractic therapies, that are regarded the most efficient, including:
Cox therapy (flexion-distraction)
Pierce Results System
Knee Chest Upper Cervical
and trainings in chiropractic radiology (assessment and analysis of X-ray images and MRI scans).
Trainings offered by us are adapted to needs of both beginners and highly experienced therapists. Besides the theoretical knowledge, we put a great emphasis on practical skills necessary to provide correct and safe therapeutic services. We do our best to make training as nice and friendly, as possible. Training courses are held at the Chirodent Clinic in Ustka, or - upon a previous agreement - at the client's venue. Contact us if you are interested. You will be informed about dates of training courses by e-mail.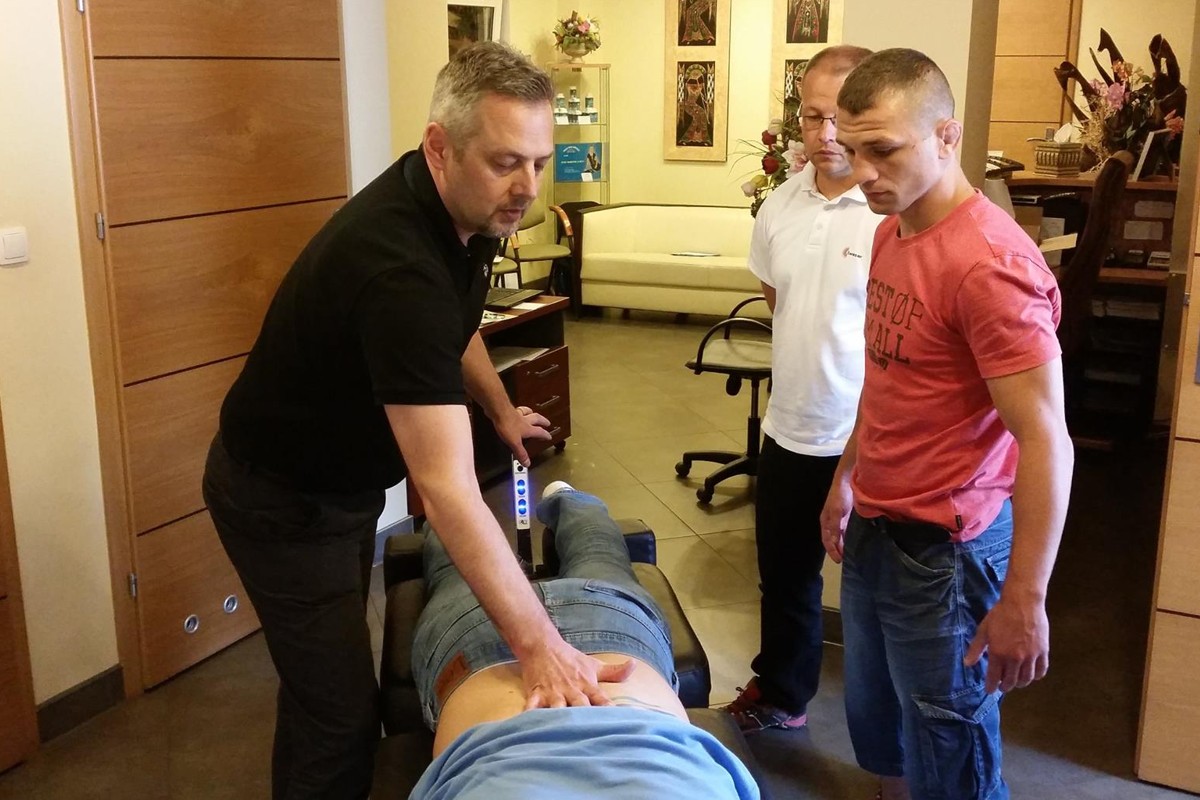 The ICS training
INTEGRATED CHIROPRACTIC SYSTEM
The training consists of 4 modules, concluded with an exam.
Level 1

Level 1

Introduction to the Flexion-Distraction (Cox) therapy
Basic analysis of X-ray images and MRI scans
Subjective examination (medical history) and objective examination, patient education, report
Principles of the Flexion-Distraction technique
Case studies
Practical workshops
Practical exam

Cost: 2000 PLN (gross)

Cost: 2000 PLN (gross)

Level 2

Level 2

Introduction to the Pierce Results System technique
Analysis of an X-ray image (PRS): cervical and lumbar spine
PRS techniques
Dermothermography of the spine
3D techniques
Case studies
Practical workshops
Practical exam

Cost: 2000 PLN (gross)

Cost: 2000 PLN (gross)

Level 3

Level 3

Introduction to KCUC(Knee Chest Upper cervical)
Anatomy of the upper cervical segment
Analysis of the upper cervical segment
Atlas-Axis mechanism of subluxations
Neurological tests
Dermothermography (advanced analysis)
Positioning using the Knee Chest C1, C2 technique
Practical workshops
Practical exam

Cost: 2000 PLN (gross)

Cost: 2000 PLN (gross)

Level 4

Level 4

Introduction to advanced integrated chiropractic techniques (ICS) Clinical use of ICS Determination of a treatment plan Integration of techniques HRV (the test of sinus heart rhythm) - applicability in the ICS technique Workshops The final exam

Cost: 2500 PLN (gross)

Cost: 2500 PLN (gross)
Other trainings:
Factor X, or how to be successful in chiropractics. Verified tips for establishment and running a chiropractic practice. How to generate profit, win a patient's trust and gratitude?

Cost 1250 PLN (gross) (szkolenie jednodniowe)

Cost 1250 PLN (gross)
(one day training)

A day at the chiropractor's.
Individual training

Cost 1500 PLN (gross) for each day of training

Cost 1500 PLN (gross)
for each day of training

Radiology in the chiropractor's office.
What you should know as a chiropractor.

Cost 1250 PLN (gross) ((one day training)

Cost 1250 PLN (gross)
(one day training)